Milan Vukmirovic brings us Fashion For Men a magazine for men that will only be published twice a year. The way he describes makes it sound like something every man in the know should buy twice a year. it looks very interesting I cant wait to look through it!
I love the rottweiler on the cover the only thing that could come to mind is Riccardo Tisci's Givenchy Fall/Winter 2011 collection.
P.S. You know a mens magazine is going to be great when the only woman featured in it is Anna Dello Russo!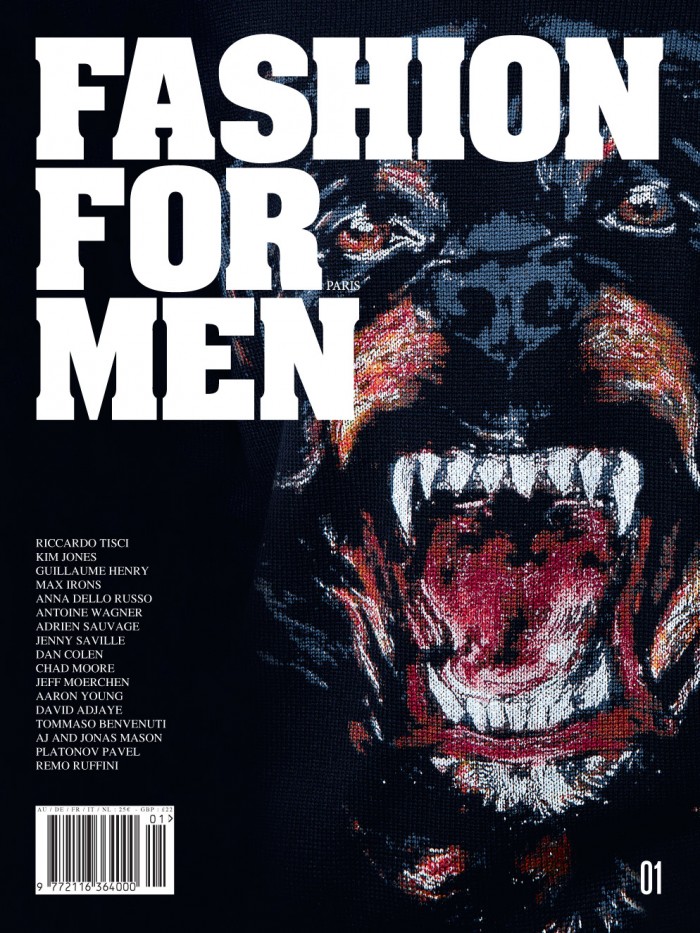 With his diverse and fashion forward track record, news of the launch of a new
Milan Vukmirovic
venture creates instant excitement for a dedicated fashion follower. Tune in as Mr V gives us a quick update on his latest print venture,
Fashion For Men
.
MDC: How would you describe the aesthetic of Fashion For Men?
Milan: Very elegant, simple, modern and masculine.
MDC: Who are some of the artists and contributors to this first issue?
MV: Riccardo Tisci is the guest of honor, Tommy Ton is a major contributor, Anna Dello Russo has a big fashion story inside as a model. She is the only woman in the magazine. The magazine has also 12 fashion stories presenting some of the best new models, like Greg Nawrat, Travis Cannata, Tomas Bukovatz, Ian Mellencamp, Chris Moore, Eric Puzio and more….
MDC: What led to the bold choice of your first cover. What is the message behind this idea?
MV: The rottweiler was the theme of Riccardo Tisci's collection for Givenchy this winter. It's strong and aggressive. I wanted the cover to be strong too. Fashion For Men issue n°1 is about 620 pages of the best of the best fashion for this winter season and next spring. Half of the magazine is already a preview of next season.
MDC: How frequently will Fashion For Men be published?
MV: Twice a year
MDC: Finally what would you say sets it apart from other men's titles on the market?
MV: No magazines gives so much space to men's fashion and accessories. It's a real "Best Of". The paper is ultra luxurious. The magazine has a hard cover and is closer to a book than an actual magazine.
It's a fashion diary of the last six months. I also wanted people to discover interesting men, not necessarily famous people, through long interviews and beautiful portraits.